Sectional Doors
Sectional Commercial Doors
Sectional doors are made of horizontal panels that are attached together with hinges. The panels are spring counter balanced and lifted with aircraft cables over cable drums. The door sections are made of steel, aluminum and/or wood. The doors can have solid sections, open expanded flattened diamond mesh, windows, or any combination of sections.
If damaged, a sectional door offers the convenience of only replacing the damaged section(s). Hinges and rollers are also readily available which speeds repair and minimizes your down time.
Rely on Precisions' Commercial Division to repair or maintain your Businesses' Sectional Doors.
Contact Us for Service or Repair 888-668-3814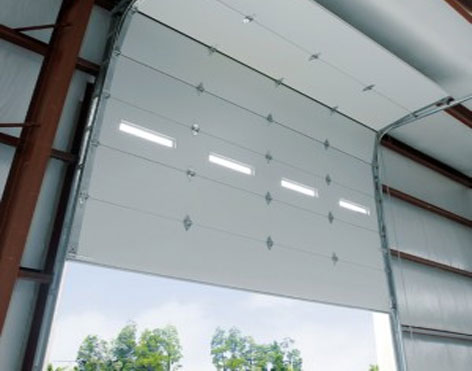 What We Offer
Same Day Service
24 Hour Emergency Service
Commercial Industrial Door & Opener Repairs
Scheduled Maintenance Programs
---

Let us call you!
Enter your phone number in the form above and we will call you so you don't have to wait on hold or go through voice menus!